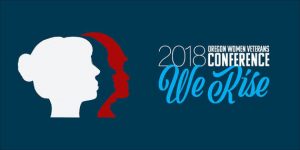 Join us in Sunriver April 26-28, 2018
A message from ODVA
This year we celebrate not just your 10th Conference, but the immense strength of generations of phenomenal women who chose to serve in the military. You are women who have been the first, the groundbreakers, and the change makers. You are a small segment of the American population who did what other women did not or could not do by saying "I can do that," often meeting with and rising above adversity and challenges other women will never know or experience.
For many, those challenges and that adversity continued even after you left the military and still, you rise. For 20 years it has been the distinct pleasure of Oregon Department of Veterans Affairs to offer this event as a safe space where women veterans can learn, gather, make new friends, and reconnect with old friends, and our goal is to make this the best year yet.
This year, as we considered the conference, we knew that we owed more to the women veterans of Oregon – that we too had to rise in order to do better for all women veterans. We wanted to honor the fact that there are women veterans throughout the state, so we chose Central Oregon to make it easier for so many of you to attend.
We wanted to honor and recognize that the population of women veterans is diverse and include women who are LGBTQ, women of color, tribal women, immigrant women, women with disabilities, young women, and elderly women, so you'll see our workshops, panels, and speakers reflect that diversity. We choose to honor that women veterans are strong even in the broken places, and that is what makes us different from virtually every other woman out there.
With your 2018 Oregon Women Veterans Conference, we seek to thank you for being you, tell you we see you, and celebrate that fact that both individually and as one, we rise.