June 2 Legislative Bill Digest Released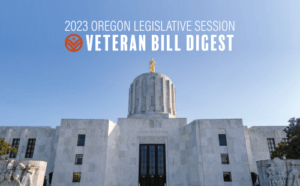 You can download or read the latest Veteran Bill Digest (June 2) from the ODVA's legislative webpage <https://tinyurl.com/yc46d5dv>. The 7-page digest contains roughly 40 bills relating to Veterans.
The 2023 Oregon Legislative Session began January 17, 2023.  Each Friday during Session, ODVA emails the Veteran Bill Digest to subscribers which contains information and links to new and existing bills impacting the veteran community.
Sign up for updates from ODVA on Veteran Legislation at <https://public.govdelivery.com/accounts/ORDVA/subscriber/new?topic_id=ORDVA_30>
Track bills, receive committee agendas, submit or read hearing testimony and more at <Oregon State Legislature (oregonlegislature.gov)>