Final Oregon Legislative Veteran Bill Digest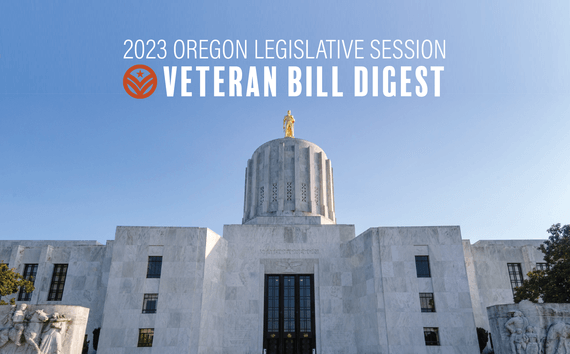 This is the final Veteran Bill Digest for the 2023 Regular Legislative Session.
As an end-of-session report, please note that at the top of the first page under the title, a legend is provided regarding the end of session bill status:
Passed = Governor Signed into law
Pending = Awaiting Governor's Signature
Failed = Bill was not passed by the Legislature
Weekly during Session, ODVA was emailing the Veteran Bill Digest to subscribers that contained information and links to new and existing bills impacting the veteran community. The entire Session's Veteran Bill Digests can be viewed and downloaded on ODVA's legislative webpage. Link: https://tinyurl.com/mr25ez9f
Please consider passing this communication to those who may be interested in signing up for next sessions veteran bill digest from ODVA. To subscribe, click here: https://public.govdelivery.com/accounts/ORDVA/subscriber/new?topic_id=ORDVA_30.