Thank you to Coquille Valley Elks Lodge#1935 for donation to Firewood for Vets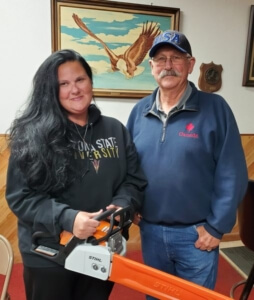 Thank you to the Coquille Valley Elks Lodge #1935 for donating a brand new  STIHL chainsaw to the SOVO – Southwestern Oregon Veterans Outreach Firewood for Vets program.
"Firewood for Vets" provides firewood to Disabled Combat Veterans and Widows of Combat Veterans in the Coos County and surrounding area.
More About Firewood for Vets
This is a program under the registered 501c3 nonprofit Veterans support organization Southwestern Oregon Veterans Outreach (SOVO). All recipients must provide verifiable ID of Veteran status and will be connected to additional resources, if needed.